Hillside Dairy – Mt. Calvary, WI
Date posted: May 16, 2023
"I like caring for the animals, and my son's a machinery guy, so that works out good," says Mark Steffes with a laugh.
He and his wife Missy are third-generation owners of Hillside Dairy LLC, situated in the rolling hills of the Holyland Wisconsin (It's a real thing!), near Fond du Lac. Missy also works as the Operations Manager for C.D. Smith Construction, Inc.
Steffes farms alongside his son, Curtis, with two other full-time employees and a few part-time high school students. They milk 275 cows twice a day in a double 10 parlor built in 2008. Bull calves are weaned and then sold, and all crops raised are feed and bedding for the dairy herd.
Steffes worked with Schmidt Building and Equipment in 2021 to outfit a brand-new calf barn, filled with the latest in technological conveniences. Schmidt handled all the concrete and steel components, as well ventilation installation, including the cutting-edge Isocell Air Curtains from Agromatic. Mark Cleven Construction from Greenleaf was the builder.
Advancing with Ventilation Tech
The Isocell barn curtains have been a positive addition to the new facility, Mark says.
From Agro Air Dynamics' line of livestock curtains, the Isocell Air Curtains offer nearly 2x the insulating power of any other system. The curtains are transparent, and designed with an insulated barrier that minimizes the heat transfer, making them a perfect fit for areas with severe cold winters.
Hillside Dairy installed Isocell Air Curtains on both sides of the barn, and Steffes appreciates the automated response based on temperature. He sets the temperature manually, and the barn curtains lower and raise based on those settings. The fans are also on sensors, making the entire ventilation system automatic.
The biggest benefit he's seen? Healthy animals.
"The calves are doing really well in there," Steffes explains. "I thought the barn would be a little warmer, but it does get pretty cold in there, which is what we want. It's warmer overall than what we had before and nice to have fresh air available directly for the calves."
He says the increased airflow from the fans and tunnel vents has altogether improved the calves' health, and adds that no one misses spending hours shoveling snow out of the way on winter days either!
An Intentional Design
His only regret? That he didn't make the barn bigger! It's already full: 45 calves on milk and three pens holding the older ones. They intentionally built the calf barn near the milking parlor to easily bring over whole milk used from high somatic count cows to feed the youngstock.
He needs to pay closer attention in the winter and rainy seasons, but says for the most part, the barn dairy barn curtains have had no issues. "We've had some little hiccups along the way, but figured them out," Steffes says.
The calf barn was built to be user-friendly, eliminating a lot of the manual labor needed in the past. The individual and large pens are all removable, the pads easily cleaned with a skidsteer, and re-bedded as needed.
He says keeping workers isn't easy, as any farmer knows, and the technology in the new calf barn as well as parlor have helped.
Little by little, the farm is upgrading, because Steffes knows that things (and people) don't last forever.
Ag Advocates
As the farm has become less labor intensive, Mark and Missy find extra time to be involved in community programs. They promote agriculture through youth programs like the New Holstein FFA Alumni and serve as ag advocates with the Envision Greater Fond du Lac Agribusiness Council, among other roles.
In 2010, Hillside Dairy hosted the Fond du Lac County Breakfast on the Farm, something Steffes says was a dream of his since childhood.
This day is a prominent memory that stands out in his dairy farming career. "It was almost like a wedding: a lot of stress, and then, it was over really fast," he jokes. "But it was a lot of fun and we got to see so many people!"
Agromatic is proud to be a part of the Hillside Dairy story and looks forward to the coming years as partners serving Wisconsin's dairy industry.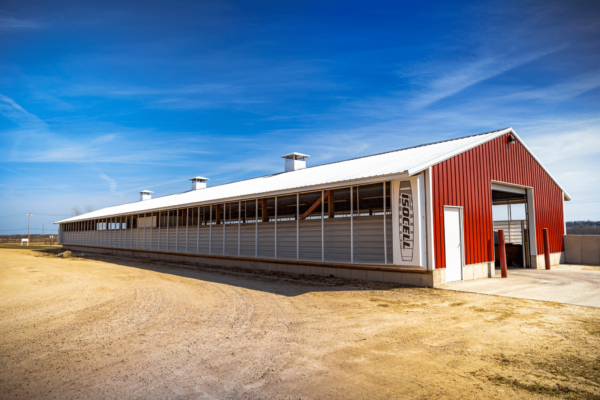 Hillside Dairy – Mt. Calvary, Wisconsin